Gaye Cawood Realty is one of the last independent real estate companies in the Dainfern and Fourways areas. Our unique positioning in the northern suburbs of Johannesburg allows us to offer supreme service to local and international homebuyers and sellers making us your agency of choice. These areas include Cedar Lakes, Broadacres, Pineslopes, Lonehill, Beverley, Sunninghill, Paulshof and Beaulieu. With our dedicated integrity and honesty, we offer flexibility and a wealth of knowledge, with a proven track record of 32 years. Our area of specialisation includes all the secure Residential Estates and we continue to offer a personalised experience to all our buyers and sellers alike. The Rentals have been another large facet of the business and Gaye Cawood Realty have successfully placed hundreds of Corporate and local rental clients over the years. Our team is, without doubt, the best in their field of expertise.

We are a focused and flourishing medium sized dynamic team that strive to consolidate our buyers' home search by allocating one skillful agent that covers several areas, thus giving our clients sufficient knowledge in order to make an informed buying decision. For our sellers, we manage more feet through their doors with our unique networking system. Our goal is to offer the best personal service to all our clients. Our online marketing presence is well established and growing fast, providing the correct platform for targeting the appropriate clientele. This enables us to compete with all the larger International brands. Our reach is worldwide with enquiries coming in hard and fast from all around the globe. For sellers we also run premium listings pushing properties to the forefront of the online community.
Gaye Cawood is the Principal and owner of the Company. Gaye has been in Property sales for 32 years. Gaye Cawood Realty was formed at the end of 2003 and this has been a highly successful business over the years, competing in a very aggressive market. The Agents working at Gaye Cawood Realty have a long history with the Estates as well as the area, having lived here themselves over the years. This is dynamic as it offers a special, honest, informed perspective to a potential buyer or tenant. Behind the scenes we have administrative staff who are dedicated to following up on the conveyancing process with attorneys to ensure that transfer occurs efficiently and quickly. We are always there to assist with any problems which may arise and to answer any queries which clients would like answered. Gaye Cawood Realty has been an involved community Agency with an impressive market share for 18 years.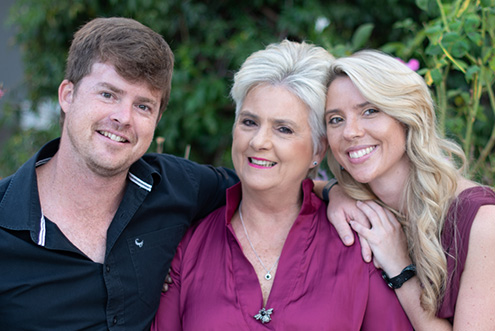 We are very community based and have long relationships that have been entrenched for many years. Referral business is key to our success. Our knowledge of the areas and Estates is vast and we are able to cross sell in our areas of focus. Our sales team work very closely with the rental team often sourcing the right home for our tenants. It is our ability to be flexible with our close in-office communication that facilitates successful property deals.
Our team at Gaye Cawood Realty go the extra mile to assist you in your home search and to fulfil the desire of finding your dream home. You can feel the positive team energy as soon as you step into our offices. There is always someone that can assist you immediately. Our team is built on trust and all the agents have a great deal of trust in one another, which, in turn, is a sure benefit for all of our clients. It is an exceptional team of inspired individuals that go above and beyond to ensure that your property journey is truly something out of the ordinary. Our team will change the way you see the world of real estate, for the better, of course.
Our steady market share and loyalty from our sellers and buyers over the years is the best achievement we can hope to attain. This is built on integrity and honesty and our clients trust us. This is our unique way of operating to give you the best service possible because your referral is our best compliment.